Quaisports released its new Carbon fiber electric scooter:Qualiscooter
Views:396 Author:Site Editor Publish Time: 2016-10-19 Origin:Site
After more than six months designing and testing ,Qualisports put its new product:electric carbon fiber scooter into mass production.
Due to the use of carbon fiber matteires,qualiscooter only weights 7KG,as the designer says even a lady could lift it up without help.
Based on a design ideal of easy to carry(carbon fiber)and fun to drive(250W gearless hub motor),the RD team of Qualisports invested hundreds of hours on carbon fiber scooter from the chosen of main body materies and the matched-degree of motor and controller .The supplier of batterry pack is the most important thing because the safty of this new carbon fiber scooter is the first priority.Also the one click-folding systerm allows users to fold and unfold it within one sec.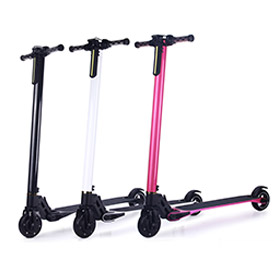 As the RD team claimed ,this new carbon fiber scooter 8.8Ah version offers a range of 30KM only after 4hours of charging time.And there are 3 colours for fans to choose.
More details please go to Pouducts--Folding scooter to see more details.